Show the difference of your products!
One of the challenges we often hear from our clients is that it is very expensive to get a photographer out on a photo shoot if they need to show all the colour combinations. Some of the problems can be as follows:
Kitchens, bathrooms and wardrobes are products that come in many different designs and materials. By creating images of the product range, additional sales are generated. More products, more expensive products or both are sold when the right images are made.
One of the challenges we often hear from our clients is that it is very expensive to get a photographer out on a photo shoot, and there is a logistical impossibility to show all the material combinations. In addition, a location can be expensive to rent and all the products, equipment and styling etc. need to be transported etc. In addition, once the images are shot, they cannot be edited into other variants, so there is a lack of flexibility in the process. These are some of the most common problems we hear from the industry and it's something we help our clients change!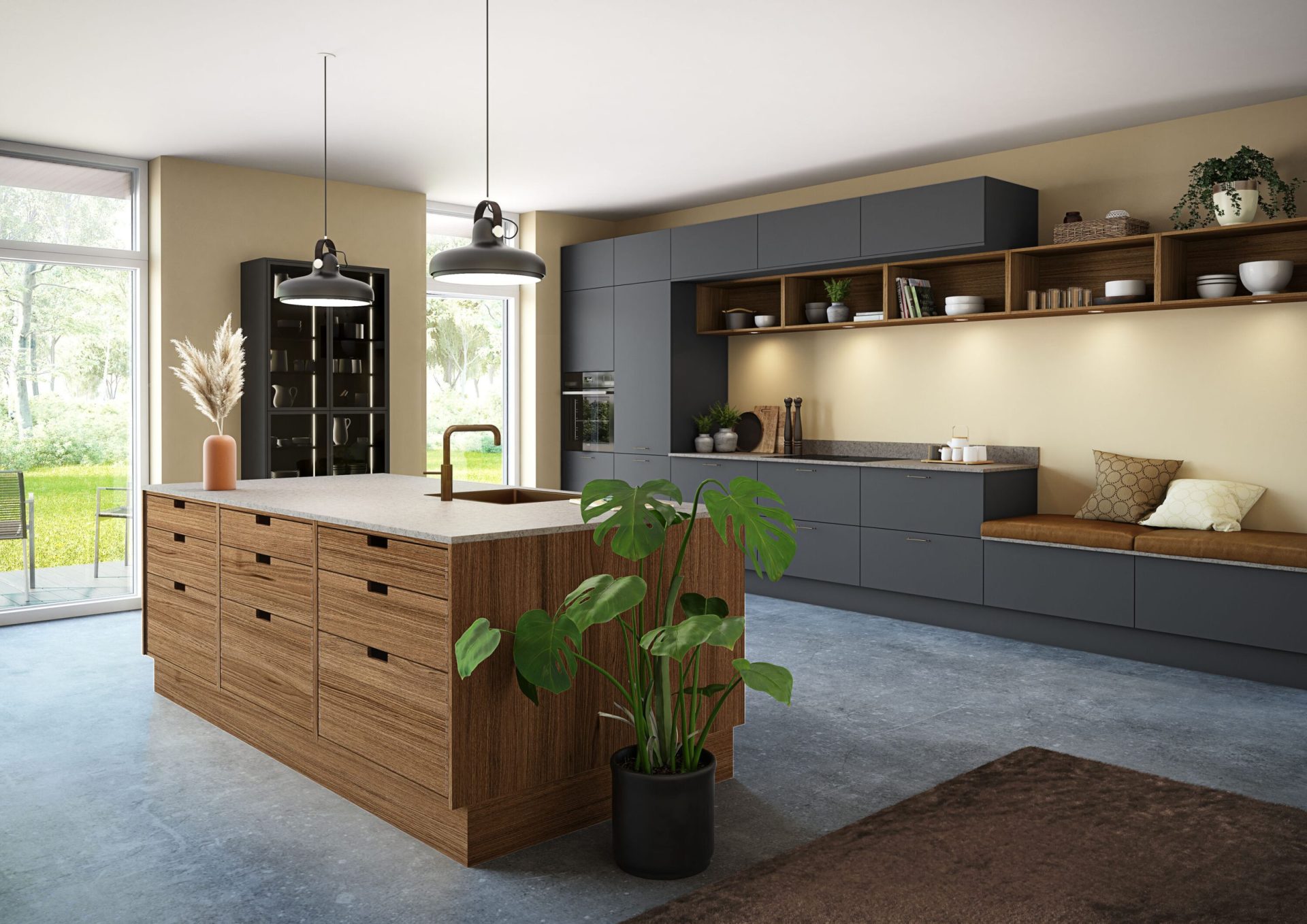 When you partner with Phiro, we agree in advance what we need from you, so the subsequent process runs smoothly and seamlessly. And because we make the images digitally, you can use the images we make of products and in the environment again at a later date. It could be new material variations for a kitchen, or a room could be used for a new wardrobe layout:
We can quickly and efficiently deliver the configurations and material variants you want

We can always edit your images if you wish later

Less CO2 emissions as transport of goods is reduced to a minimum
When we make 3D visualisations, it's also important that we get the materials and colours right. Whether working with photography or 3D visualisation, ensuring correct colours can be a challenge. That's why we've invested in an ISO certified colour setup, so you can be sure the colours will be correct.
If you would like more information about our ISO-certified setup, please look here.
Get more out of your images
If you are a business dealing with inventory, make the most of your images. Once we've built your optional environment, we have the ability to offer many additional great looking and attractive images at a low price.
Do you display your modules in all colours?
If you also have many different modules, in different colours, with different lid types, then we are the right people to help you. We'll make a matrix of the whole job, and make sure everything is aligned with you. 
We'll make sure all creations and colours are approved by you, then we'll start rendering your images. 
If you need help contact us right away